I'm (sporadically and with much delay) blogging my yearly pilgrimage to linux.conf.au 2014, this year being held at the University of Western Australia in Perth.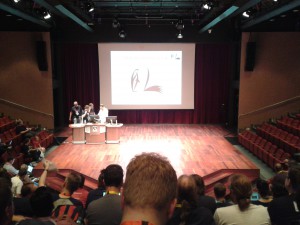 Keynote
We begun the first day of the conference with the morning keynote, which was presented by Suelette Dreyfus. She talked about some of the statistics around people's feelings towards privacy, whistle-blowing and government surveillance. The thing I found most interesting was that the ordinary citizen supports whistle-blowing and doesn't support government surveillance. Which leads to one of two conclusions:
The government will soon have to start actually listening to citizens and do something about all this.
The government is actually entirely controlled by the spy agencies and we're all screwed.
Yay for freedom and democracy! :/
Rocketry & Radios
The next talks I attended were from the open radio miniconf, where Bdale Garbee and Keith Packard talked about the hardware and software they are using for rocket to ground radio communications on their rockets, and which they are successfully selling through their fully open-source business. I found a few points interesting:
RF circuit board design is hard. There is some serious smarts going on with designing those boards to not have everything interfere with everything else (especially in such as a small package, with two radios within a centimetre of each other).
Here is yet another FOSS small business that is clearly surviving and not a complete drain on the pocket (one assumes, you can never be sure). That's good news, as the world needs more businesses to cross that divide between open-source and the commercial world.
Rockets are fun!
The Sysadmin Miniconf
Between lunch and afternoon tea I sat in on the sysadmin miniconf (there's a mantra at linux.conf.au: if you're in doubt as to what to see, tend towards the left hand side of the schedule). The most interesting talk for me was from Elizabeta Sørensen on RatticDB, which looks a pretty cool password management tool that would have been amazingly useful in my last job (where I worked as a sysadmin rather than being a programmer like I am now). Despite being immature software, it has a lot of promise and I'll definitely be trialing it for my own uses.
I also found the talk on Husk by Phillip Smith to be very interesting. Writing iptables rules is a pain, and writing them twice (once for IPv4 and again for IPv6) is a complete pain. So Husk looks great because it gives you extra power in simply being able to write-once for both network stacks and being able to re-use variables and rulesets. It's basically SCSS for firewalls.
Modems
After afternoon tea I went to the talk given by David Rowe on modems and how they work in a basic sense. Unfortunately I was completely out of my depth and I had no idea how the modem algorithm fit into the stack of hardware and software. Is the mixer hardware or software? Where is forward error correction done? No idea. More reading for me to do!
Crash!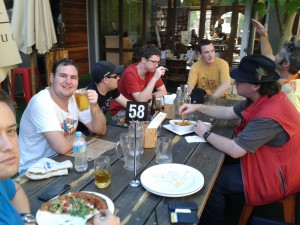 By this stage I was pretty exhausted, having not got much sleep the night before. I therefore retreated to the dorm room and had a quick nap, a cup of tea and a shower (Perth is hot!) before dinner. I went out with a few friends (new and old) to a great pub we've found nearby that does good pizza and amazing crème brûlée. Hopefully an early night tonight so I don't get too exhausted before the week is out.