I'm about to head off an overseas trip for two weeks in Vietnam (travelling via train from Ho Chi Minh to Hanoi), and like a true millenial traveller I thought it might be interesting to show everybody what I've packed for the occasion.
The plan is to live out of my backpack for two weeks, which, based on previous conference travelling, is a very achievable goal. My partner is also taking a backpack (albeit one slightly larger than mine).
You'll note that this trip is unusual in that my partner is 'encouraging' me not to take a laptop (presumably because it's so unusual that I travel without a laptop). That's not much of an issue these days as smart phones can do almost anything a laptop can do these days, just with a much smaller keyboard. This lightens the backpack considerably.
The other change from my usual conference packing list is that, due to Vietnam being a tropical country and our trip being during the wet season, I'm taking a lot of medical gear I wouldn't bother with otherwise (mosquito repellant, antibiotics, gastro tablets, bandages, and so on).
Without any further ado, here we are:
Clothing
5x T-Shirts (light colours)
5x Underwear
5x Socks
1x Shorts
1x Jeans (mostly for airports and trains)
1x Raincoat
1x Swimwear
1x Pyjama Shorts
You'll note that five changes of clothes is nowhere near enough for a two week holiday, so we're planning on doing laundry two or three times while we're away. From my experience in the Philippines in 2013, laundry facilities are everywhere in South East Asia, and it's even ridiculously cheap to pay somebody else to do it, so it makes a lot more sense than packing a suitcase to last you the entire trip (and then dragging that around with you for two weeks).
Medical / Toiletries
Travel Medical Kit (bandages, etc)
Travel Towel
Hand Sanitiser
Toothpaste
Toothbrush
Mosquito Repellent
Sunscreen
Tablets
Other Items
Wallet
Phone
Passport
Keyring
Umbrella
Teabags (very important!)
USB Power Brick
USB Cable
Earphones
Luggage Tag
Luggage Locks
Sunglasses
Pens
Notepad
Staples (for changing SIM cards)
Foreign Currency
Travel Documents
And when it's packed, it all looks like this: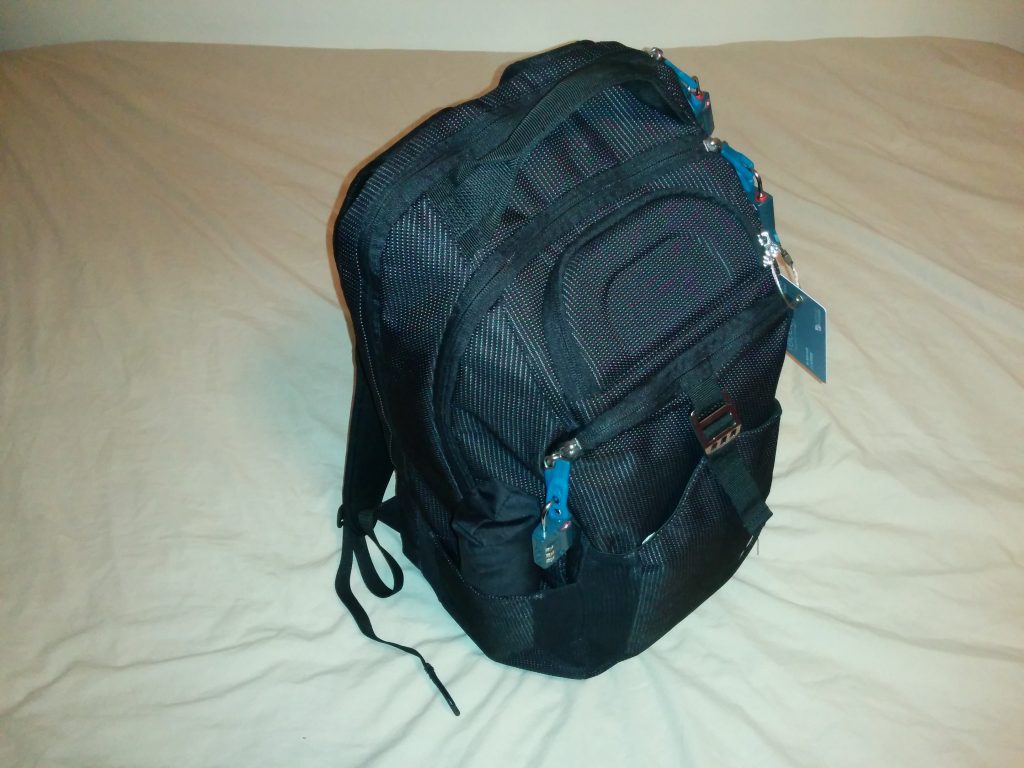 I'm planning on doing a review of this bag (the Thule Crossover 32L) as it's an awesome bag, both for commuting and (hopefully) for travel. I'll probably write that once I'm back and have fully trialled it in every scenario.
For now though, it's time to begin the travels!