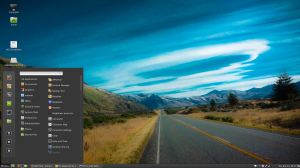 I've recently installed Linux Mint on my laptop, replacing a horribly broken install of Windows 8.1 Preview. There have been good and bad things:
The good:
The Windows 8.1 Preview broke the wireless connectivity on my laptop horribly. Every time the laptop booted up or awoke from sleep, I would have to uninstall the wireless card from the device manager and then scan for new hardware to add it again. I would then have to key back in all the wireless keys for the networks I used before I could connect again. This got a bit annoying after a while. Installing Linux Mint, I had no issues with drivers or network connectivity, even with sound drivers, which is something that has plagued the Linux desktop world for years. It just works, and that is truly great.
With all the attention being given recently to the NSA's spying on the citizens of the world, it's nice using an operating system that gives you a little more protection (even if it isn't very much more) from the spooks. I am still using many cloud services (including accounts with Facebook, Google, Twitter, Microsoft and Apple) so I still have a long way to go, but I can now PGP encrypt my mail with little effort, and should the need arise I can inspect every line of code on my system for back doors (though, it might take a while).
The GUI can actually be described as beautiful. While I'm a big fan of the classic Windows look (circa 2000 and XP) and I'm also a big fan of the Windows 8 Metro theming, the horrible combination of the two that most Windows 8 apps seem to have leaves much to be desired. In addition, most GNU/Linux distributions (looking at you especially, Ubuntu) have completely unusable GUIs. Linux Mint takes a beautiful looking GTK+ theme and marries it with a window manager (called Cinnamon) that is just stunning. It's what Linux should have been like for years. And no Unity in sight.
Steam now works on Linux, and I can play Counter-Strike: Source again. This is a big deal, and it's a great benefit to "Linux on the desktop".
It uses Ubuntu's package repositories, which use in turn use Debian's awesome apt-based package management system. This gives you access to all of Ubuntu's packages (which is a massive collection) and it uses familiar Debian configuration files. It's a rock-solid (less stable than Debian Stable, but so are most nuclear reactors) core system.
The bad:
Over recent months I've done a lot of software development in Visual Studio. VS 2012 is a great IDE. And it has nothing that comes even close on Linux. Netbeans (my preference on Linux) is a pretty powerful IDE, but VS still blows it out of the water in every way. Similar to Evolution vs. Outlook, there are still a few killer applications on Windows that make it the default choice for getting things done.
Firefox and Thunderbird look ugly as sin on Linux Mint compared to Windows. I'm really disappointed as everything else is so good looking in comparison.
There's no good replacement for MetroTwit. I've tried most of the Twitter clients for Linux, and they all suck in various ways. MetroTwit, as far as I'm concerned, is pretty much where it's at with Twitter clients. It's awesome.
Overall, I'm very impressed with Linux Mint. If you haven't tried a GNU/Linux distribution in a while, give it a go. I think you'll be pleasantly surprised.