So, lately I've been investigating buying new routing and networking equipment for home, as the NBN (Australia's FTTH roll-out) is coming closer and my old ADSL2+ modem/router (a Billion 7800NL, one of the first consumer routers capable of IPv6) was getting a bit long in the tooth; the configuration is not retained across reboots and the web interface crashes with HTTP 500 errors more often than not.
So, out with the old an in with the new. There were a few choices:
A new consumer-grade router, such as one of the newer models from Billion (which are quite good, but have low tinkerability).
A Mikrotik-based solution. This was a close call, as I'm a fan of Mikrotik and my friend Jamie is even more of one (he loves them). However, I want to get more experience with Cisco products as I want to be able to put that on my résumé. Hence, I wanted a Cisco solution.
I also considered the Cisco 2801, as they are not much more than an 1841, but have four HWIC slots instead of two, so I wouldn't have to spend time deciding which HWICs to get, I could just have them all! However, the fans are apparently very loud (as professional rackmount gear tends to be) which would not suit the living room locale very well at all.
So in the end I settled on a Cisco 1841. Lower fan noise, still supports HWICs for swap-out fun and excitement, and has the full features of the IOS software available.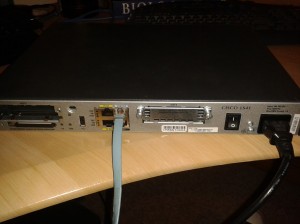 You may have noticed I didn't go for a Cisco 1801 which has ADSL support built in. This is deliberate, as the NBN is closing in on my street and I don't want to be left with a router that supports old technologies – all I will need for a fibre connection is an ethernet port, which the 1841 has two of out of the box. I can also add in 3G backup connections (which is more of a want than a need) as well as things like WIC-1AM or WIC-2T modules (i.e. utterly useless but kind of cool).
For wireless, I'm undecided as to what direction to go in. I definitely want something dual-band (2.4GHz and 5GHz) as my laptop supports dual band and I want to invest in technology that will last at least a couple of years. This rules out most consumer gear quite quickly. A Mikrotik solution is another option and is probably the front-runner. The second option is a UniFi AP Pro, which supports a whole host of cool features like multiple VLANs and SSIDs etc; it's a little cheaper than a Mikrotik solution but also a lot less flexible. Finally, the most expensive option is to buy a wireless card for the 1841. There are many problems with this approach: I'll use up an HWIC slot, the modules are incredibly expensive, it's not even 802.11n, likely to be a complete pain in the neck to configure, and not dual-band. The only benefit is that it keeps everything in one box.
I've only received the router in the last week or so, and the eBay auctions for WIC modules haven't yet finished. There's a long way to go yet. So wish me luck on my path to routing enlightenment!
Liked this? Here's some more: