This week I'm at linux.conf.au, the southern hemisphere's premier open-source conference. This year it is being held in Ballarat, about an hour's travel from Melbourne. I'll be documenting the trip and conference as much as I can given the limits of my enthusiasm and awakeness.
Sunday 15th January: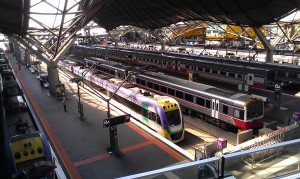 Sunday was spent travelling. My flight from Hobart to Melbourne departed at 8:35am, and it was a perfect day for flying. Warm, clear skies and little wind. An almost perfect flight. I landed in Melbourne before schedule and caught the SkyBus into the city. I was there by 10am, and my train to Ballarat (which I was travelling with my friend Michael Wheeler on) left at 5:08pm, so I had quite a number of hours to spare. Needless to say, I did what any tourist would do, and set about travelling on as many forms of public transport as I could in one day.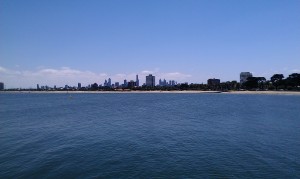 I caught a tram down to St. Kilda, the light rail (which was merely a glorified tram) back, a suburban train out into a random suburb and back, as well as the plane, car and bus I had already travelled on. I took a few pictures, mostly from St. Kilda pier. A poster detailing the risks of getting in the way of a tram also caught my eye.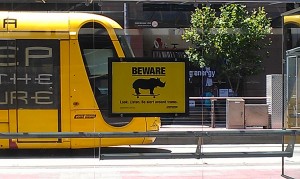 After my random adventures in Melbourne's transport system came to an end, I met Michael (fresh from his trip down from Rockhampton) and we proceeded to get on the VLine train to Ballarat. We fired up our laptops and were just getting comfortable in a game of OpenTTD, and then the train was off! But not for long. After about 200 metres of travel it was announced that the train was cancelled, and we would all be transported on coaches instead. We finally arrived in Ballarat two hours late, at about 9pm.